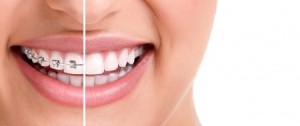 Think of braces. Now think of braces that do all things regular braces can do, in a shorter amount of time, with less discomfort, are hidden from view and are 100% customized to your treatment plan and your teeth. Then you are thinking of Incognito™ braces.
Tailored to your teeth and your particular malocclusion specifically with state-of-the-art technology, this revolutionary type of braces has some notable advantages.
Working Behind the Scenes
For those worried about the way their braces look, Incognito™ is the perfect blend of enhanced functionality and aesthetic freedom. Attached to back side (or lingual side) of the teeth, they are invisible to most casual observers. Being unseen can give the wearer increased confidence in social situations while still enjoying the orthodontic treatment of straightening teeth and fixing bites.
Although they are slightly more expensive than their traditional counterparts, another benefit of Incognito™ braces is that their contoured fit makes them easier to maintain and clean.
Comfort
Most patients fitted with Incognito™ indicate that they feel minimal discomfort. There is little to no pain when they are fitted, and thanks to them being customized to each individual tooth, they are better suited to comfort and increased functionality.
Additionally, evidence from wearers suggests that the issue of speech interference is minimal, too, in comparison to other types of braces. Wearers may still experience some discomfort but it will be diminished.
Less Time in the Chair
As part of the customized fit, the process is more efficient. The wires require fewer adjustments as the treatment as a result of customized design and treatment plan, which translates into fewer appointments as well as less amounts of discomfort after adjustment.
As a bonus, evidence points to a quicker treatment time for Incognito™ wearers than other types of braces, too.
Fits Most Teeth and Needs
Incognito™ braces have the benefit of being a fit for almost everyone. If you are a candidate for traditional braces, there is a good chance that you will be eligible for Incognito™, too.
Beyond the benefit of being discrete for those not anxious to announce that they are wearing braces (business professionals and public speakers), they have functional benefits, too.
Those that are worried about braces damaging their teeth and lips (or even the braces themselves) during their daily professional or leisure activity will benefit from their positioning behind the teeth, too. Musicians who play wind instruments (or guitarists whose solos involve teeth) and those that engage in contact sports can do so being less nervous about their braces.
Although Incognito™ braces may suit you, they aren't available at all orthodontists' offices. There is a level of specialization required to fit them correctly. Fortunately, Orthodontic Associates offers the Incognito™ Hidden Braces to our clients at any of our 8 convenient locations around Baltimore. Make an appointment for your consultation to see if these braces are the right choice for you. As always, we look forward to making you smile!