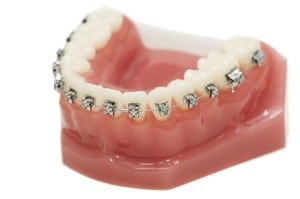 One of the first questions you might have about getting braces is "What are thebest type of braces for me?" This is usually followed by, "which ones work the fastest?" There really isn't a pat answer for that.
The types of braces you use in treatment largely depends on what type of malocclusion the braces are intended to help adjust, such as misalignment of the teeth that includes overbites under bites, open bites, cross bites, deep bites, crowding spacing and crooked teeth.
As part of your initial consultation, your orthodontist will take the time to discuss what these types of malocclusions mean and how your orthodontic treatment will address your individual needs.
A good consultation will take into account all of the factors that influence the best type of braces for you, including your budget and lifestyle considerations as well as those most suited to correcting your problem.
But if a "best" needs to be awarded, a 2008 survey published in the Journal of Orthodontics and Dentofacial Orthopedics, states that the "traditional" steel variety that get the top billing for being the most effective. They may not be as aesthetically pleasing as other treatment options, but they are hardier, standing up to the rigors of everyday wear and tear. They also offer orthodontists more control for tooth adjustment, and with the control, they often work the fastest.
For those interested in a more aesthetically pleasing type of braces, lingual braces (such as the Incognito brand) will correct any type of malocclusion that regular braces can—and they remain almost completely hidden from view, as they are attached to the back, or lingual side of your teeth.
This treatment option will be more expensive because these braces require a level of specialization that regular braces don't and so they may not be an option for everyone.
Ceramic braces are another cosmetically appealing option for those with any of the range of orthodontic issues and who aren't interested in them being noticeable.
Invisalign are popular alternatives to the fixed braces. Rather than relying on bonded brackets and archwires, Invisalign trays are customized, clear plastic aligners that can be removed and replaced by the wearer.
Not everyone is a candidate for this popular treatment, as there are some limitations for complex tooth movements (like root uprighting, cylindrical tooth rotation or vertical tooth movements).
The Invisalign treatment is completely reliant on the trays being worn 22 hours a day, only being removed for eating, drinking and cleaning. Not following these rules when wearing the trays can make for longer treatment times.
They also rely on the wearer sticking to the treatment that has been prescribed by the orthodontist for the full benefit to be enjoyed—a factor that orthodontists will stress.
At Orthodontic Associates, we have a full range of treatment options available for orthodontic corrections at any of our 8 convenient Baltimore locations. After your examination, our friendly and professional doctors will offer you a thorough explanation of your available options and help to choose the best type of braces for your lifestyle and your new smile—something we look forward to helping you achieve!