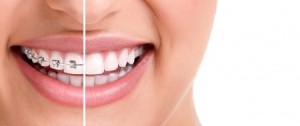 So, the day that you have dreamed about (probably since your first braces consultation) is rapidly approaching. Life after braces is fast becoming a reality and let us at Orthodontic Associates be the first to say congratulations on your new smile.
Before you get used to the idea that your mouth is about to be metal (or porcelain, or plastic, or … well, you get the picture) free, there a few things that you will need to know about what happens after orthodontic treatment.
For one, Mother Nature has a tendency to shift things back to the way she started them so maintenance is key in your life after braces. The adjustment comes in the form of a retainer, and the quickest way to get back into the orthodontist's chair is to decide that retainers are optional.
At Orthodontic Associates, we like to make sure that our patients aren't repeat customers (and we have had a few), so our fee includes follow-up visits for one year after braces come off to monitor that nothing is shifting. Annual evaluations beyond the first year—a service we offer for $25—are recommended for all patients.    
Retainers come in bonded wire or removable varieties. As lower teeth tend to shift more than the upper teeth, fixed wire is typically used on the bottom while removable retainers are favored on top. Again, this is a general rule as excess space on the upper arch is usually addressed with fixed wire, too.
Removable retainers have a habit of growing legs and should be stored in a safe place when not being used (napkins don't count). Both styles of retainers need to be cared for and cleaned properly.
The retainer might also affect your speech while your tongue becomes familiar with it. To speed up the get-to-know-each-other period—talk. A lot. Singing and reading out loud are other useful exercises which will help you become accustomed to your new retainer.
As for those foods that were "no-fly zones" while you had braces, give it couple of days for your teeth to settle before diving headlong into the vat of taffy and popcorn. But you can now enjoy those forbidden fruits again.
And you probably have quite a few photos that you would like to "lose" in your life after braces. But hold onto at least one of them, just for a "then and now" comparison so that you don't forget just how different you look now.
At Orthodontic Associates you can choose from eight convenient locations around Baltimore where our professionals look forward to providing you with the service, knowledge and techniques to ensure that your experience with braces—both before and after—is the most pleasant possible.