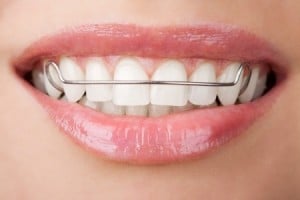 The importance of retention cannot be understated. The time, effort and expense you put in shifting your teeth to get that winning smile and correct alignment will be undone by not sticking to the retention plan prescribed by your orthodontist.
Much like braces, there are different types of retainers available certain ones may be better suited to your particular treatment, and your orthodontist will do his or her utmost to make the last mile in your orthodontic journey as comfortable as possible. Here is a look at the different types of retainers used:
Hawley
Drawing its name from its inventor, Dr. Charles Hawley, this removable device is what people envision when someone mentions "retainer." The best-known and most common retainer, it is a custom-molded acrylic arch that fits perfectly into the wearer's palate. The attached wire can be adjusted as needed should minor "tweaks" be needed. Additionally, the acrylic is customizable and comes in a number of different colors so you can personalize your experience. They are easy to clean and last with proper care (provided you don't leave it wrapped in a napkin at your favorite Italian restaurant).
Essix
Resembling Invisalign trays, these vacuum-formed transparent plastic retainers are  wire-free and customized to the wearer's teeth. Made from molded PVC, this removable device is inexpensive and inconspicuous. They have applications outside of retention, too, like tooth movement and bridges.
Fixed Lingual
As the name suggests, this a permanent device. It is bonded (or glued) to the back (lingual) side of the wearer's teeth. It is usually across the lower six front incisors (or eye teeth). Because the retainer is fixed, there is a smaller margin for movement, as the wearer cannot remove the device and lose it. Wearers have to pay closer attention to hygiene for this type of device. They also have to be conscious of their bite, as it can impact the bonding material and influence tooth movement.
Active Lingual
Similar to the fixed lingual, the active lingual retainer is a permanent fixture. This device relies on a nickel-titanium section bonded to the backside of the affected tooth (and the adjacent tooth as the anchor) to correct minor irregularities (like dental crowding). The device is more comfortable than lingual brackets.
Join any one of our highly experienced orthodontists at our 8 convenient locations around Baltimore to discover the right type of treatment for you and your family. We look forward to making you smile!