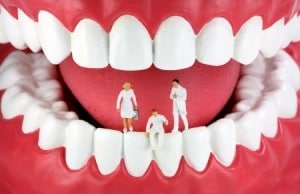 The relationship you develop with your orthodontist is a lasting one, which can yield wonderful results both in terms of appearance and self-esteem. Choosing an orthodontist for you and your family is a big decision.  Orthodontic treatment plans and even bedside manners vary from doctor to doctor. Finding the right orthodontist will go a long way in making your experience and treatment much better, and sometimes easier.
In your search, second opinions can be helpful in pinpointing what type of treatment, and which doctor, is the best match. Asking experts questions can sometimes be difficult, but being ready with some questions before you sit down to discuss braces and treatments can be helpful in making that decision.
Here are some questions that you might find useful (and which Drs. Miller, Abrahams and Williams are all ready and happy to answer):
Credentials
Where did you get your degree in orthodontics?
How long have you been in practice?
Do you offer a guarantee?
Procedures and treatments
Is one treatment better than the other for kids/adults?
Will tooth extraction or surgery be necessary?
Will treatment alter the facial structure?
Are there alternatives to metal braces for the particular issue?
If so, which ones can be utilized?
What is the difference in cost? In proposed treatment time?
Will braces be used on the top and bottom?
Am I a candidate for Invisalign?
Is headgear going to be necessary?
How long will the braces be on for?
How much pain is involved?
Will the teeth around the brackets be stained?
How much of a lifestyle change will be involved?
What will my procedure cost?
Is this all-inclusive
Are retainers and co-pays included as well?
Does the cost include regular and emergency (if necessary) appointments?
Do you accept dental insurance? If so, which types?
Do you offer financing? Payment plans?
Follow up
How often will follow ups be needed?
Should an adult be present for the appointments?
Can they be scheduled for after school/work hours?
Can you be reached if any issues arise outside of regular office hours?
If I have a general question, will I need a consultation?
We look forward to answering these and any other questions you may have at any of our 8 convenient locations around Baltimore while you search for the perfect orthodontist to give you and your family the perfect smile.