There are some 4 million Americans of all ages with braces. According to bracesinfo.com, it is estimated that up to 70% of Americans need orthodontic treatment, not just for winning smiles, but to correct bites and for healthy mouths, too.
Orthodontic treatment is a commitment and you will spend a significant amount of time with your doctor.  It is worth the effort choosing an Orthodontist that matches your orthodontic requirements as well as one that you are comfortable with and happy to see quite regularly.
If you are a parent, the American Association of Orthodontists recommends taking your child for their first orthodontic checkup the age of 7, so being proactive can help you make an informed choice when you decide which doctor is right for you and your family.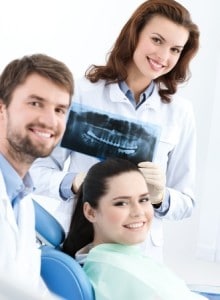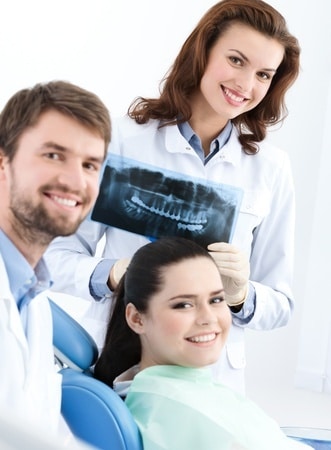 Here are a few tips to help you find the best possible match for choosing an orthodontist.
Referrals
Ask around. Chances are there is someone that you trust that knows someone they trust. Your family dentist is a good place to start. Local listservs, online forums or friends are other good sources of information. Parents can often rely on their pediatricians or pediatric dentist for a good referral.
Research
Referrals are a great starting place, but it is still good to do a comparison. The orthodontist's website is an easy place to kick off your selection process. Look for things like credentials, years in practice, treatment options, awards and whom they treat.
Some orthodontists offer initial consultation for free or at a nominal fee. Taking advantage of this opportunity helps to identify the scope of the proposed treatment and allows you to meet the doctor in person. You won't get their bedside manner from a website. It is also a good way to see the office and experience the overall feeling of the facility.
Questions
Have a list of them ready. From recommended treatments and what they entail, to the length of time you should be in braces, and what the office does in the case of an emergency. Be thorough and make sure you have all your questions answered to your satisfaction.
Fee Structures
Dental insurance does not always cover orthodontic treatment, so determining cost and fee structure in advance is prudent, too. Orthodontists may offer payment options or plans. If they aren't on the website, inquire about them and whether are discounted rate for payment in full.
Determine whether or not the fee quoted is all inclusive (diagnostic records, treatment plan, orthodontic appliances, retainers, follow-up visits, etc) or, if not, what extras are involved.
Technology and Treatment
An orthodontist employing current technology is one that is committed to staying on the cutting edge of the profession, which means continuing education in and a familiarity with newer techniques.
As newer styles of treatments emerge (like Incognito or Invisalign), and you are eligible for them, your orthodontist can shorten the treatment's duration and often with less discomfort.
Scheduling and convenience can play a role, too, in choosing an orthodontist and is one of the reasons that Orthodontic Associates offers 8 office locations in Baltimoreas well as after school hours. We welcome questions, so schedule an initial consultation with one of our friendly and professional staff members. We look forward to making you smile.